We have kitten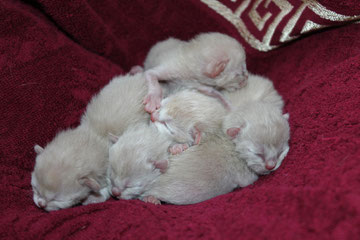 Welcome to the Cattery
"Burmesen von Rackersville"
You would like to have some information about Burmese cats or buy an adult Burmese cat or a kitten? Then you are at the right place. We breed Burmese cats because of their character. Together with this character we breed both classical as ticked tabby colors. On our website you will find information about us and our Burmese cats. In our cattery we emphasize on health, the inbreeding factor, as well as the exclusion of genetic defects.(Our cats are GM2, hypokaliämie and headdefect free) You can also find this information on our Website. If you have questions or would like to visit us, please contact us, we look forward to seeing you!

Links in the English translation refer in general to pages with pictures and text. Most of these pages contain however German text. Because of the structure of our website we unfortunately cannot translate all of this text. We hope for your understanding.
 Since we have many ideas of webdesigning, the presentation of our website is always changing. Just have a look on our website! Do you like our website, or do you have any suggestions for us? Then we would be very happy if you let us know in our guest book.
Burmesen von Rackersville
Rob & Corinna van Mosel